TESTIMONIALS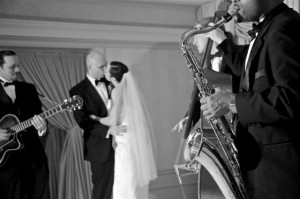 "As an Associate Publisher for Perfect Wedding Guide I have the opportunity to work with and hear talent from many sources.  For my wedding day I chose to use Pablo Grabiel and Grabielismo Productions.  The talent, professionalism and service exceeded my high expectations and the event ran flawlessly.  I recommend them highly!"
Lisa Martel, Associate Publisher – Perfect Wedding Guide
"Grabrielismo Productions Delivers! We strongly recommend Pablo Gabriel, and Grabielismo Productions to anyone planning a special event. First and foremost, the four-piece ensemble, Bemcha, that played for our wedding was outstanding.  Each musician complemented each other, and put his own spin on a mix of timeless jazz classics, modern pop songs, latin jazz, and even a fantastic rendition of Bob Seger's "We Got Tonight."  The arrangements and timing for both the ceremony and the reception were extremely well thought through yet flexible enough to adjust to what the audience seemed to enjoy listening to. Perhaps more importantly, Grabielismo Productions delivered a polished and professional product on time in the most unusual circumstances. Our wedding occurred during Washington D.C.'s worst blizzard in modern times, yet the musicians arrived at the venue early and ready to play despite the fact that the Washington metro area virtually shut down for an entire weekend.  We were grateful for the effort each musician put forward in this regard. Grabielismo Productions exceeded our expectations in every conceivable way, and for that reason we wholeheartedly recommend Pablo and his entire crew for any wedding or special event.
- Sincerely, Greg & Jodi Louer"
-Bride & Groom
"I was very fortunate to have had Grabielismo Productions and Bemcha band play music for our wedding ceremony and reception. Pablo and the band were extremely generous with their time — including helping guide us through designing the program of music for the ceremony and in learning our "first dance" song for the reception.  The band was extremely patient and flexible while on-site — including accommodating a last minute reshuffle of the ceremony music. The band even went the extra mile to provide backup music to a Bulgarian song performed by one our my relatives.   I could not be more happy with both the level of service that Pablo provided and the professionalism of the band. I'm pleased to give Grabielismo and the Bemcha band my highest recommendation."

-M. Koparova – Bride
"Trio Grabielismo is comprised of professional musicians that added to the quality of an event I planned for Lockheed Martin in November 2009.  The trio played music that was pleasing to the entire crowd of employees of all levels and backgrounds.  I received a number of compliments that evening on the trio.  I would recommend Trio Grabielismo to any organization that wants to hold an impressive event."

-Roma S. Brodecki, Lockheed Marti
"Grabielismo Productions is a fantastic company.  Their bands are some of the best bands that we have ever used for our events.  They work with a group of wonderful musicians and Pablo Grabiel is always willing to please his customers.  I would recommend that brides check them out for their weddings.  You will not be disappointed."

-Lana A. Tull – CEO/Chief Consultant – Pure In Heart Weddings & Events, LLc.
"I just wanted to thank you so much, again, for the fabulous performance at the Smithsonian American Art Museum's Carnaval del Corazon festival. The Flamenco dancers were beyond graceful and filled all corners of the Kogod Courtyard with their beauty and energy. The music from Mr. Oretea was a wonderful complement to the dancers and really helped to illustrate the conversation between dancer and music. In fact, I had one audience member tell me that this was the best program she has seen all summer at SAAM! I can't tell you how much I enjoyed working with you and your talent. Everyone was very gracious and I especially enjoyed how they got the audience engaged in the performance, and up out of the chairs to start dancing themselves!"

-Laurel Fehrenbach, Smithsonian Institute
"From our wonderful experiences with Grabielisimo, we let our clients know that Grabielisimo is the one stop shopping source for all of their musical desires.  The professionalism and talents of the artists far exceeds our clients' expectations and they are thrilled.  As a business owner recommending another business, I have complete confidence sending all of our clients to Grabielisimo because I know they will be well-taken care of.   Thanks, Pablo and the musicians at Grabielisimo, you all are fantastic!"

-Sandra Gartrell, The Intown Uptown Inn – 4907 14th Street, NW, Washington, D.C.  2001
"I have worked with Grabielismo Productions several times now and I have always been very happy with the experience.  The musicians Pablo sends are always talented and personable – the piano player chatted with our guesta and took requests which really made our reception that much more memorable.  They've even played holiday music for me in September – always flexible, always fun, always on time.  Thanks Grabielismo!"

- Rebecca Rowland, Catering Sales & Conference Services Manager, The melrose Hotel
"Pablo and his services are unique and well worth every penny. You get something special and personal by using Pablo's ecclectic range of musical options. His staff are all professional and talented musicians and dancers. His company offers much more than you regular DJ or string quartet. I highly recommend Pablo if you are looking for something SPECIAL, MEMORABLE, and REASONABLE!"

-Laura Ritchie, Event Designer
-R&R Catering
"My husband and I would like to personally offer our gratitude to Grabielismo Productions for such a beautifully entertaining performance that we and our guests will treasure for our lifetime! Your strong commanding vocal style, the graceful artistry of the flamenco performer, and the powerful explosion of tunes from the guitarist, reminded my husband and I of the performances that we witnessed while in Madrid, Spain, the country where he asked me to be his wife. If you are planning an event that is trying to capture the hearts of its audience through passionate artistry while creating memories of a lifetime, then please use Grabielismo Productions! They are the innovators in their field!"

-Mrs. Kimberly Caceres, Bride
"I would recommend Grabielismo Productions without hesitation to anyone looking for music for their law firm or other corporate event. When I recently contacted Grabielismo to help me with music for our firm's recent party, Pablo was enthusiastic about helping me find exactly what I was looking for–something different, modern and cutting edge and professional all at the same time. I ended up hiring The Bemcha Band and enjoyed a wonderful evening of Latin Jazz. Pablo and all the musicians associated with Grabielismo Prodcutions were true professionals. We look forward to using Grabielismo Productions in the future because I know that Pablo Grabiel will always help me find exactly what I am looking for."

-Kelley G. Keener, Events Coordinator
-OberKaler, Law Firm
"Recently I chose Grabielismo Productions to provide music and entertainment for the Grand Re-Opening of the Smithsonian National Museum of American History. Grabielismo Productions delivered exactly what we needed! They worked very closely with us to make sure that we got exactly what we were looking for with each and every group or musical act involved in the event. All of the talent from Grabielismo Productions were very professional, punctual and easy to work with. They really made our job less stressful. I cannot wait to work with them again!"

-Kathryn Miller, Senior Account Executive
-Hayes & Associates
"Everyone really enjoyed your music and felt that it added a lot to the event. We have booked other musicians in the past, but your skill and professionalism BY FAR outrank any of the others we have used. Thanks so much!"

-Celeste Otsuka
-Sterne, Kessler, Goldstein & Fox P.L.L.C.
"I was referred to Pablo and his company only a few weeks before my wedding…so at the last minute we needed to scramble. We wanted something simple, soft and classic. Pablo immediately took the task of fulfilling our need. He found us the cellist and violinist very quickly…even helped me make better selections of music -selections other than the "norm", but still tasteful. All of this was accomplished over the phone, email, etc. We never met face-to-face, which at time was becoming very difficult with all of the other things we had going on. The day of the wedding, they were on-time, on-queue, and truly made the ceremony music fantastic. We even received tons of compliments from our guests. We would highly recommend Pablo's services. Thanks!"

-Kathie & Dan Whitmoyer, Bride & Groom
"The musicians were very punctual, professional, and accommodating… my guests were certainly appreciative of their presence and skills and also mentioned their professionalism and their warm and positive attitude. They were not just "working the event", they took part in it. Thank you very much for sending them to our event."

-Marina Lang
"Pablo Grabiel of Grabielismo Productions. Look for his touch on the music culture throughout the Washington D.C. area, and beyond! He's … become a talented and sought-after musician. His most touching gift to me was the performance of music written by my parents which he played at my California wedding on August 17th."

-Mrs. Tammy Glenn Schwartz, Bride
"I have had the pleasure of working closely with Pablo Grabiel for the last two years on a variety of projects for the Brookland Community Development Center. He is a true professional who is thoroughly dedicated to his clients. Grabielismo Productions has provided us with quality professional musicians for a number of events, ranging from solo guitar, duets or trios for our holiday parties and events to the entire musical lineup for our annual community festival. Pablo and his performers are consistently excellent, professional and talented. The music at the festival this year, when Grabielismo Productions managed the entertainment, was the strongest it has been in over 11 years. I would recommend Pablo and Grabielismo Productions without hesitation to anyone who is looking for top-notch and dependable entertainment services for any size or type of event."

-Lavinia Walfarth
-President-Brookland Community Development Center
"On behalf of the Adams Morgan Day Steering Committee and AdamsMorgan MainStreet Group, I would like to thank you for your time, support, professional expertise and excellent service provided in the stage and entertainment coordination for the Adams Morgan Day Festival. Not only did you do a fabulous stage, you juggled two stages for our event. Everyone had only positive comments about the smooth transition between bands as well as on the quality of the entertainment. Your degree of professionalism is outstanding. We're looking forward to working with you again in this next year."

-Janet Lugo-Tafur
-Director, AdamsMorgan MainStreet Group
"Pablo has found his niche. He has a passion for his work, and enjoys all aspects of what he does. Pablo books all the musicians at my restaurant. I know Pablo will make sure I get what I want out of the performances, and he makes sure that there is not only talent there, but flexibility, variety and intention. I will continue to work with Pablo, as long as he is available for this genre. He is a commodity."

-Chandler Goff
-Manager at Brinker International
"Pablo played music at my wedding in London and did an incredible job. He is a talented guitarist and singer and brings something unique to any event where he plays. I highly recommend his music and style."

-Leeela Wilson, Bride
"Pablo is a gifted musician with a very strong work ethic. He is professional and reliable so you can always count on him to give you the best effort possible. He will go that extra mile to make the experience the best you can have."

-Michael Walker
-Vice President at Bear Stearns
"Pablo was asked to perform In MY LIFE by the Beatles at our wedding in Cabo San Lucas, Mexico. He went above and beyond our expectations with his performance. He not only did a beautiful job singing and playing the guitar, but he translated part of the song into Spanish. It was perfect for the event. We appreciated all that he did to make our wedding special"

-Nicole Lamping, Bride
"I recently hired Grabielismo Productions to provide a live Mariachi band for my organizations annual Gala. Grabielismo Productions provided a great service with lots of personal attention on short notice. I highly recommend the service to anyone looking for a quality product and personal attention!"

-Estera Barbarasa
-Fundraising & Public Affairs Coordinator, Ayuda
"Pablo Grabiel and Grabielismo Production are great! They are professional, reliable and very client oriented. Pablo provided a D.J. specific to our needs and the event that we were hosting, it was perfect. I highly recommend Grabielismo Productions."

-Yvette, Sanchez
-Executive Director of National Migrant & Seasonal head Start Association
"We chose Grabielismo Productions to help coordinate a DJ for our corporate holiday party. The DJ was on time (early actually), and ready to go when we needed him. He was friendly and played a great variety of music. We all enjoyed having the DJ at our event, and we will look forward to working with Grabielismo Productions again soon."

-Anna Steel
-Near Infinity Corporatio
"Pablo provided the perfect group for the event, and they were great. His guitar playing was masterful. Recommend him without reservation. DZ"

-Durwood Zaelke
-President at Institute for Governance & Sustainable Development
"I have known Pablo for 3 years, and have had the privilege of working indirectly with him on a couple of projects. I love his energy and passion for his work/music. Pablo is an incredible musician, very service-oriented and is always willing to go the extra steps to exceed his customer's expectations."

-Levy Schroeder
-Director, Farmworker Health & Safety at AFOP
"Pablo has been a great resource. He has numerous contacts and knows all types of musicians from drummers to guitarists. All the musicians that I have booked through him are excellent, punctual and great at what the do – entertain."

-Alyssa Caroselli, Event Coordinator
"Pablo is an impressive musician and a complete professional. He not only provides great music, but is very easy to work with. You can trust that he will tailor his performance to your needs and will follow through on his promises."

-Juge Gregg
-Associate at Sidley Austin
"It is with great pleasure that I recommend the entertainment of Grabielismo Productions. I began my search for a nice goody but oldies group with versatility! I received more. This group enhances an event to perfection. The group can adapt to any event's taste. I have included this group as an exclusive for my civic organization anniversary and have also recommended them for local area waterfront property restaurant (as entertainment in the metropolitan area) in which they are a "hot" item and now a "household" name."

-Denise James, Event Planner
"I had the wonderful opportunity to have Pablo play at one of my client appreciation parties and I was very pleased with his perfomance. He was able to modify his music to fit the atmospehere of the venue and kept the party moving right along. I hope to have him play again soon!"

-Heather Embrey
-Owner, McEnearney Associates
"Last year's array of music was probably the best of any of the organization's festivals. The variety of genres was broad and proved to be quite popular. People danced to the very end. And when we needed last minute music for the parade to start the day, Pablo made that happen too!"

-Richard Layman
-Program Manager at Brookland Main Street
"Aside from being one of the most talented and versatile musicians in the DC area, Pablo has deep roots in the community and is a great leader in bringing people together. He is supportive of other artists and uses his influence to both mentor and empower those around him… He plays guitar like no other, and we always look forward to working with Pablo and his team/band."

-Joshua Barlow
-Media Director / Organizer at Art Outlet
"Pablo provided excellent entertainment for our firm's summer associate party. He can provide an array of musical entertainment for your every need."

-Gina Cimarelli
-Sterne, Kessler, Goldstein & Fox P.L.L.C.
Pablo assembled a great trio of musicians for us on short notice that really met the needs of our event and made the evening special. I certainly will hire Grabielismo Productions again."

-Kenneth Markowitz
-Global Climate Change Advisor at Akin Gump
"Pablo is a comprehensive professional who always places the needs of his customers first. He makes sure that style of music provided is congruent with client expectations and that everyone in the audience has a good time."

-Larry Graubard
-Account Manager, Datamax
"Pablo Grabiel and his musicians are always extremely professional and reliable. The Bemcha band and and their music is loved by staff and customers. I look forward to using Grabielismo Productions for our next event!"

-Saul Amaya
-La Lomita Dos Mexican Restaurant
"Duff Davis on Guitar and Dylan Stoddard on bass provided two and a half hours of perfectly delightful soft music for our son's wedding dinner, enhancing a festive occasion and creating a more memorable event for the bride and groom, our family, and our guests. We were extremely well pleased and look forward to having them , or others of Pablo's talented group, play for any similar event we may sponsor in the future."

-Mai and Don Carson
-Happy parents of the groom
"If you are seeking world class exquisite entertainment, I recommend Grabielismo Productions to fulfill your expectations."

-Jerry Korzybski
-Manager, Special Projects
-Maryland Transit Administration (MTA)
"Pablo Grabiel and his partner performed at my daughter's engagement party on Sept. 29th. They played for about 3 hours and the party was enormously successful largely due to the atmosphere and ambiance created by their fabulous music. I have no hesitation in recommending their services. They are professional and timely, and they play excellent music. Thank you!"

-Sunita Ramchandani, mother of the Bride
"I booked the Bemcha band to perform for our school auction. We hired Bemcha to perform Brazilian bossa nova and samba music to compliment the theme of our event. The band was fantastic and when attendees of the event requested salsa, merengue and mambo, Bemcha was able to accommodate their request. The band was early, professional and packed the dance floor all night long. We highly recommend Bemcha and Grabielismo Productions."

-Sharon Cassidy, Lowell School Auction Event Chair
"As an event designer for R&R catering I have hired and referred Pablo Grabiel and the talent at Grabielismo Productions for many events and always with rave reviews. Recently, I chose Grabielismo Productions to provide a jazz trio for the ceremony and reception for own wedding. I chose Grabielismo Productions amonst the rest because I know that they will deliver quality entertainment and service above and beyond the rest. And they did!"

-Heidi Harrington, R&R Catering Event Designer & Bride
"We called Grabielismo Productions because we knew that they provided customized entertainment based on the needs of their clients. The consultation, service and sincere interest in my event was very manageable and pleasant during a period of otherwise insanely busy and stressful planning. Pablo seemed to know exactly what we needed without our having to articulate exactly what that was (we didn't exactly know what we wanted). It was obvious that while this was our first trip down the aisle, it was not his first wedding! We settled on a guitar duet with Pablo Grabiel and Duff Davis and could not have been happier with the outcome. They learned a tune of our choosing for the procession out and performed it to perfection – what service! It was also very comforting to know that the entertainment they provided was perfectly polished and professional, the duet was punctual and prepared, and the music was pure bliss. – I highly recommend Grabielismo Productions!"

-Patrick Jones, Groom
CONTACT PABLO: (202) 441-8344 | info@pablograbiel.com | Contact via Website